New Ford Bronco in Ebensburg, PA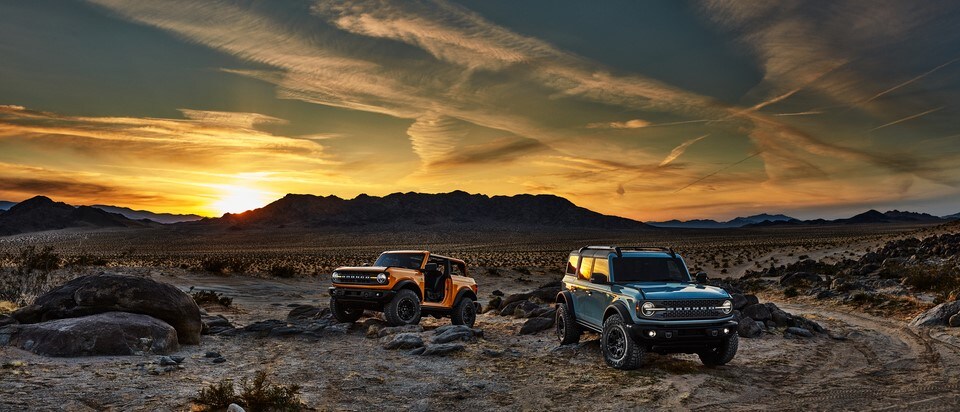 Conquer the Road in a New Ford Bronco SUV

The revival of the Ford Bronco has been one of the most interesting stories in the auto world. The vehicle has been out of the lineup of new Ford vehicles for a long time, and it is now newly returned with a fresh and modern design. It is a two-row SUV with a good list of features, a strong set of engine options, and outstanding off-roading ability. If you are curious about how the new Ford Bronco turned out and you want to learn more about it, this page will have all of the information you need to decide if this new Ford SUV is a good fit for you.
Performance
There are two engines to choose from on the new Ford Bronco. The base engine has a turbo V3 with 181 horsepower. It is available on three of the trims. The top two trims have a turbo V4 with 250 horsepower. No matter which engine you choose, you will get all-wheel-drive and an automatic transmission with eight speeds. The base engine is quite powerful and feels very good for daily use, so there isn't any pressure to move up to the bigger engine unless you want those trims for other reasons. The base engine also does better on gas, getting 28 MPG on the highway and 26 MPG for the upgrade, and 25 MPG in cities rather than 21 MPG. It's good to see a performance-oriented vehicle where the base engine is so attractive because often, you are forced to upgrade to get the most out of it. The handling with both engines is outstanding.
Trims
The Bronco has a set of five trims.
The base Bronco has an eight-inch touchscreen, Bluetooth, smartphone connectivity, Wi-Fi, and four USB ports. It also has a suite of active safety tech called Co-Pilot360 that includes blind-spot monitoring, forward collision warning, lane-keep assist, lane departure warning, and other features.
The second trim is the Big Bend. It gets new fog lights, heated mirrors, cargo flooring, satellite radio, automatic climate control, and button start as standard features. There are also some options, such as navigation, heating upgrades, wireless charging, and adaptive cruise control.
The third trim is the Outer Banks. It has more seating upgrades, leather upholstery, more USB ports, remote start, and a few other luxury touches, along with the same options as the Big Bend.
The fourth trim is the Badlands, and it is the first to use the upgrade engine. It uses the Big Bend base and adds several new off-roading features like a locking rear differential, skid plates, bigger shock absorbers, and more.
The top trim is the First Edition. It is a limited-edition model that adds some special features to the Badlands, like a new sound system, leather upholstery, and a moonroof.
For most people, the base trim will offer everything that they want. If you are very interested in off-roading, then the Badlands is a good choice. The models are good value, and you don't need to move up to the Big Bend to get a lot for your money.
Visit Luther Ford Ebensburg Today!
The return of the Bronco is a huge success. It is a fun and well-designed Ford SUV that can handle a lot of off-roading, but it is also practical enough to be a daily driver. Set up a test drive at Freedom Ford and see for yourself just what the Bronco can do and why everyone is so excited to see it return to the Ford lineup after its long absence. Whether you're in Ebensburg, PA or Johnstown, PA, stop by to learn more.