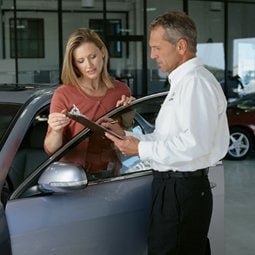 Visit Our Ford Service Center in Ebensburg, PA, for Processional Auto Service
If you're a driver in the Northern Cambria, PA, area who is looking for a reliable spot where you can bring your Ford truck or SUV for a tune-up, we would love to work with you here at Luther Ford Ebensburg. We offer a service center where our customers can come to keep their vehicles well-maintained.
Here at our Ebensburg, PA Ford service center, we are proud to offer a team of certified technicians who know how to handle Ford vehicles. Our service center uses genuine Ford parts for repair to ensure quality performance, and we offer a wide range of services for our customers in the Colver, PA, area.
The Benefits of Regular Automotive Maintenance
If you plan on having your Ford Escape or Ford F-150 for miles to come, it's important that you bring it to our local service center for regular maintenance. Getting regular maintenance services will help your everyday performance, and it will help prevent any major issues from occurring in the future. So choose to invest in the longevity of your Ford vehicle and come to our service center for help.
Our Available Services
We can handle a wide range of automotive services here at our dealership. Here are just a few examples of what we offer:
Air Filter Replacements
Transmission Service
Check Engine Light Diagnostics
Air Conditioning and Heating Services
Tire Rotations
Cooling System Service
Headlight Service
Oil Changes

When you think of auto service, you most likely will think about oil changes. This service is a great way to maintain the health of your engine and improve your vehicle's everyday performance. Regular oil changes also help improve efficiency. Plus, an oil change is a quick service that won't take much time so that you can do it after work, on your lunch break, or the weekend. Contact our team to schedule an oil change in Ebensburg, PA today.

Brake Service

Your brakes are an essential component of your vehicle in order to ensure you and your passenger's safety. Our staff can help you replace your brake pads or rotors and thoroughly inspect your brakes and the brake fluid level. If you notice any issues when braking, like a grinding sound, taking longer to stop, or pulling to one side, make sure you come to us today.

Battery Service
To prevent any need for a jump-start, you want to make sure that the battery inside your Ford EcoSport or Ford Expedition is working properly. We can inspect your vehicle's battery and perform a test to see how it's working. And if needed, we can replace your battery for you at our local service and maintenance center in Ebensburg, PA.

Tire Rotations and Service
Our technicians at our Ford service center can help make sure that your vehicle has the right tires for your needs and that they are in good condition. Our team can perform a tire rotation to help extend the life of the tires and can monitor tire pressure and tread depth. Plus, we can help install seasonal tires for you so you can take on snow and sleet during the winter with confidence.
Make an Appointment With Us Today
If you'd like to stop by our Ebensburg, PA Ford service center for maintenance or repair, we would love to see you! You can schedule Ford service online using our online tool or by giving our staff a quick phone call. Our team is available to answer any questions about our process, our services, and more.
Our local Ford dealership is conveniently located right off of US-219 and US-22, so you can easily get to us from areas like Cresson, PA. We look forward to helping you keep your Ford vehicle in tip-top shape. Please get in touch with us today!