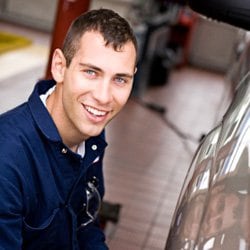 Come to Our Parts Center at Luther Ford Ebensburg
If you're planning on doing some at-home repair on your Ford truck or SUV, you'll need to have the right auto parts. Using the right parts can not only speed up your auto repair project, but it can make sure you don't encounter any issues along the way. So, if you're a car enthusiast, you'll need to find the right auto shop that you can depend on to get the necessary parts for your project.
Here at our Ford parts center in Ebensburg, PA, we are happy to help you find the right components you need to get your Ford car, truck or SUV back in good shape. Our team of professionals can help you figure out what kind of parts you'll need and advise you on the authentic auto parts we carry at our Ford dealership.
Why Buy Genuine Ford Parts From Our Ebensburg, PA Dealership?

When you're adding new components to your Ford vehicle, you want to make sure that they're authentic and will last you a long time. That's why we recommend that drivers in the Cresson, PA, area use genuine Ford auto parts. These auto parts have been produced by the original equipment manufacturer and are sure to fit precisely inside your Ford truck, SUV, or car. So there's no guesswork around fit when you choose to buy Ford parts from our local Ebensburg Ford dealership.
OEM parts also guarantee quality and longevity. These parts are made with the same materials as your vehicle's original components, and they'll last you a while, so you don't need to worry about replacing parts more often than not.
If you want help understanding the right kind of auto parts for Ford Escape, Ford F-150, or other Ford model, you can chat with our team. Our staff is knowledgeable about the ins and outs of Ford models and will be able to advise you about the right part or accessory for your Ford truck, Ford SUV, or Ford car.

Popular Auto Parts Here at Our Ford Parts Center
You can visit our dealership for a variety of parts and components at our Ford parts center near Northern Cambria, PA. Here are just a few auto parts you can purchase from our parts center:
Tires
Windshield Wiper Blades
Air Filters
Oil Filters
Brake Pads
Batteries
Spark Plugs
And more!
Visit Us to Shop for a New Ford Accessory
Are you looking to customize your Ford Bronco or Ford Explorer? We are happy to provide you with a range of Ford accessories like all-weather floor mats, roof racks, tow hooks, a security system, cargo nets, and more. No matter if you need something for off-roading, something to help you with storage, or a safety accessory, we can help you find an auto part to match.
Fill Out Our Parts Request Form Today
If you're ready to purchase some parts from us, we encourage you to submit a parts request form to our team. All you need to do is complete some essential information about you and your vehicle and the part that you need. Then, our team will be in touch with you with the next steps.
Do you need help with installing the auto part you get from us? You can reach out to our Ebensburg, PA Ford service center for assistance. You can schedule an appointment, and our team will be able to help you put on a new set of tires or install a new battery.
If you have questions for our team about the right parts for your Ford Expedition or Ford Ranger, please get in touch, and we are happy to help you out. We look forward to working with you here at our Ford dealership near Colver, PA!