New Ford Explorer in Ebensburg, PA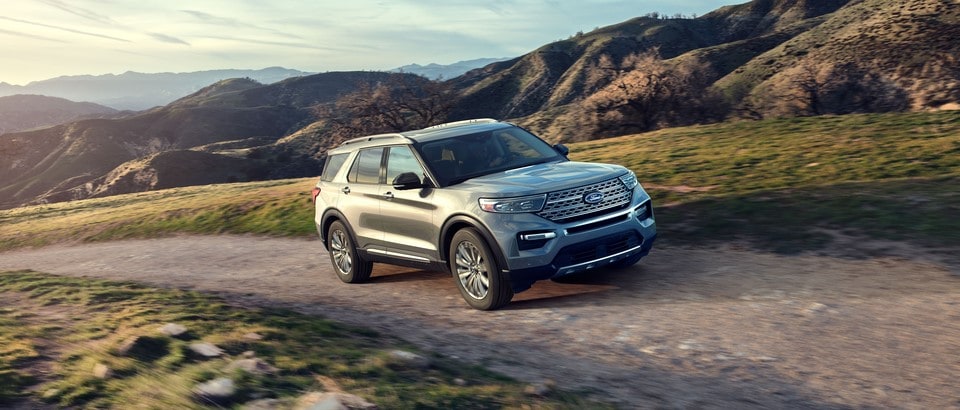 Shop for a New Ford Explorer at our Ebensburg, PA Ford Dealership

The Ford Explorer is a remarkable SUV equipped with exciting features that seem to get better with age. The fleet of Ford Explorer SUVs at Luther Ford Ebensburg is a testament to how good vehicle engineering can influence other vehicles. Try out a used or new Explorer, and you're going to notice three distinct perks: Navigable controls, good hatch space, and plenty of legroom for front and rear riders. But what other benefits come with the Explorer, and why do they warrant a recommendation for drivers in Johnstown, PA?
The answer is simple. Ford Explorer doesn't over complicate things for the driver. The steering is familiar and aligns well with people of varying heights. Its 4WD drivetrain performs outstandingly well in many road environments, and it doesn't burn fuel as quickly as some might expect. Want to learn more about the new Ford Explorer? Contact the team at our new Ford dealership in Ebensburg. We are happy to get you behind the wheel so you can experience the power and comfort of this stellar new Ford SUV.

Find a New Ford Explorer in Ebensburg, PA

The newest model Ford Explorer SUVs can be configured with a 10.1-inch LCD monitor, which is much wider than other vehicles' standard screen size of seven inches. This means more room to see navigational menus, maps, and words with ease. Active Motion in the seats can conform to the size of the driver and front passenger, which also adjusts itself according to the designated setting of the passenger sitting down.
Customization for Everyone
Everyone likes to tweak things to their liking. With the Ford Explorer, you can swap the instrument cluster with one that's entirely LCD. Check the pressure of your tires, make an appointment with the aforementioned screen, or let others in the SUV control the sound system for you. Get up to seven people in the vehicle simultaneously without anyone ever feeling cramped. The rear seats fold up with a technique that's known as PowerFold.
Help with Reversing
At some point, most drivers will find themselves in a situation where it's hard to reverse without a ground guide behind them. That won't be a problem with the Explorer. Instead, use its reverse assistance technology to safely navigate your way out of a congested situation. No longer will you have to ask for passengers to guide you away from close vehicles.
What about the Engine?
Engines and HP aren't the same for every Ford Explorer model and change throughout the years. The newest have 3.3-liter V-6 engines. If you settle for a hybrid model, you'll get a powertrain partially controlled by the use of an electric motor. The fuel engine remains the same but is partially reliant on electricity.
Is the Explorer Recommended for the Adventurous?
Ford Explorer SUVs are great for backroad driving, thanks to their four-wheel drivetrain. It rests high from the ground and is difficult to get stuck in slightly wet and muddy areas. If you anticipate hauling large pieces of equipment like surfboards, tents, or more luggage, you can do so with the roof tracks. However, not every Ford Explorer has roof racks, so it should be requested when one is necessary.
How to Learn More
Ford Explorer SUVs have been around for a while and will continue to be a new vehicle option for drivers every year. They're tailored perfectly for both an off-road and on-road driving experience. Luther Ford Ebensburg can get you the new Explorer made in your favorite color and one that comes with some of the configurations described.
However, you don't have to wait to see us at Luther Ford Ebensburg to get answers to all of your inquiries. Make a phone call, send a message on your smartphone, or simply pass through when you're in the neighborhood. We'll get you familiar with an Explorer in our Ebensburg, PA inventory right away!